How to Locate a Missing Apple Device or track your iCloud Device
Posted on
3rd Mar 2020 09:53:54
in
How to -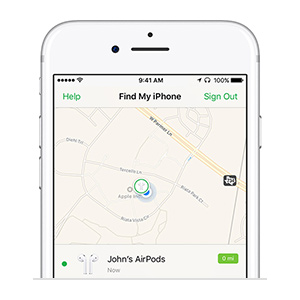 We know how frustrating it can be to lose your iphone or tablet.
Even miss placing your device in your own home gets annoying when you can't find it.
If you're looking for ways to keep track of and find your Apple devices in the future.
Now let's get started with Apple's Find My iPhone system.

You can locate your iPhone, iPad, Mac PC, Apple watch or even the your wireless airpods.
You can see where your device is on a map or play a sound to help you find it.
The icloud tracking system and the Find My iPhone app are totally safe to use.
You can even lock your device, leave a message or remotely erase the information stored on it, if someone has stolen it.
To enable iCloud tracking on an iOS device, by default is should be on, but lets check.
Open your device's settings, tap your name at the top of your screen, now select iCloud, scroll all the way down and tap "find my iPhone"
slide the button to enable the Find My iPhone feature.
I also recommend turning on the send last location feature, so you'll be able to see your device's last location once the battery dies.
You may need to login to your Apple ID account to confirm you want to enable iCloud
GPS Tracking
,
if you have an Apple watch or air pod earbuds paired with your ios device tracking will automatically be set up for those as well.
Before I show you how to locate your Apple device, we'll quickly show you how to set up tracking
on a Mac, to enable iCloud tracking on your Mac click the Apple icon in the top left,
then click system preferences.
now click iCloud,
Scroll to the bottom until you see Find My Mac, check the box beside it to enable the feature.
If you don't have location services enabled yet, click details, then click open security and privacy
Click the box beside enable location services to allow iCloud to access your location.
Without location services enabled you won't be able to track your Mac.


To find a device with iCloud go to
www.icloud.com/find
, then log into your Apple ID account with your email address and password.
Have a look at the map to see where your devices are, click one of the dots to choose a specific device, click the i button to access more options,
In the upper right corner, you'll be able to see the device's battery level play a sound to help you find it or remotely lock your device by putting it in lost mode.
If your device has been stolen and you're worried about someone accessing your information on it click erase to wipe all your personal information from the device.
l recommends setting up iCloud tracking right after watching this video so you'll be well prepared in case you ever Lose your device.
Selling old iPhone , iPad or your macbook has never been easier. weather you're upgrading or just cleaning out your drawers. Check out what you Apple device is worth...